Anglais. Des vacances ludiques 
L'association Kangaroo organise, durant la première semaine des vacances de printemps, du lundi 4 au vendredi 8 avril, des activités ludiques en anglais pour les enfants âgés de 3 à 11 ans, ainsi qu'un stage d'anglais pour toute la famille. Les séances seront animées par Polly Childerhouse. « The Gigantic Turnip ». Sur le thème de l'histoire du gros navet, les enfants s'amuseront avec les chiffres, les animaux et les légumes. Il est même prévu qu'ils fassent des semis. Du lundi au vendredi, de 9 h 30 à 12 h. Pour les 3 à 7 ans. Tarif : 125 €. « Fun in the kitchen ». Les apprentis cuisiniers réaliseront de délicieux petits gâteaux anglais. Flower pot chocolate chip muffins. Lundi, de 14 h 15 à 15 h 45. Mini chocolate cheesecakes. Mardi, de 14 h 15 à 15 h 45. Pour les 4 à 11 ans. Tarif : 32 € les deux ateliers.
Activités « Eggcitantes » !
« Egg inspired Activities, so Eggcitting ! » ou « Des activités existantes inspirées par les oeufs ». Little scientists. The Great Egg Parachute Drop ou l'art de faire atterrir un oeuf sans le casser. Mercredi, de 14 h 15 à 15 h 45. Pour les 7 à 11 ans. Tarif : 16 €. Little Artists. Egg Chicks. Les petits réaliseront un poussin. Jeudi, de 14 h 15 à 15 h 45. Pour les 3 à 7 ans. Tarif : 16 €. Marvellous Mathematicians. Egg Wrapp. Calculer un diamètre ou un rayon c'est amusant. Les enfants seront aussi invités à fabriquer quelque chose. Vendredi, de 14 h 15 à 15 h 45. Pour les 7 à 11 ans. Tarif : 16 €. « The very Hungry Caterpillar ». Stage ludique en anglais pour toute la famille. Du lundi au vendredi, de 16 h 30 à 17 h 15. Tarif : 10 € la séance, ou 48 € la semaine par famille. 
Pratique 
Renseignements et inscriptions association Kangaroo, 1, impasse Feunteunic-ar-Lez, 29000 Quimper. Site : www.kangaroo-asso.fr. Tel. 06.07.19.87.11.
© Le Télégrammehttp://www.letelegramme.fr/finistere/quimper/anglais-des-vacances-ludiques-14-03-2016-10991699.php#8VLAFV6bYuYHKUHt.99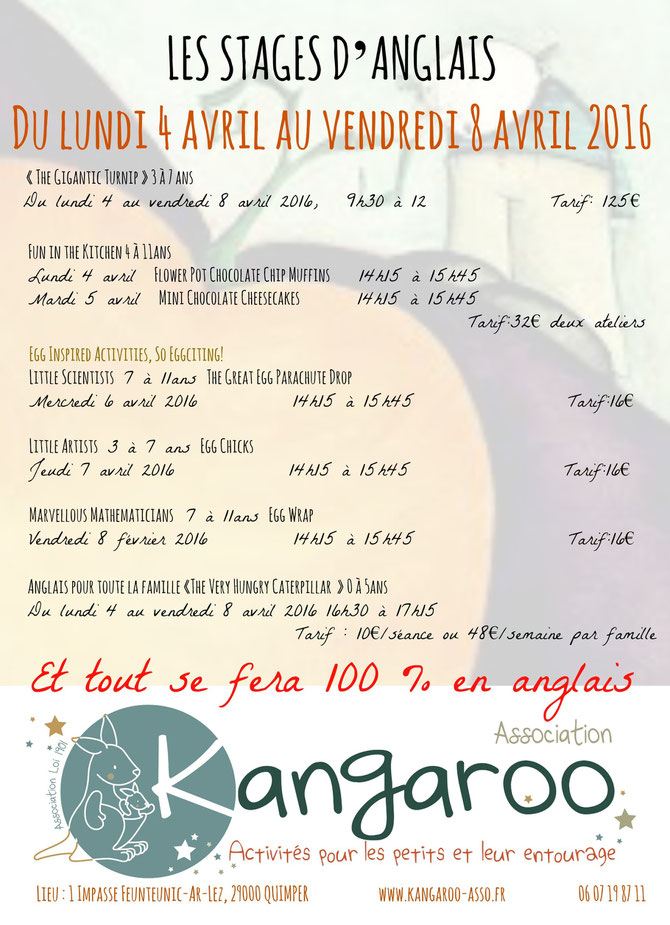 L'anglais, c'est fun ! © Le Télégramme
Durant la première semaine de vacances scolaires, Polly Childerhouse, de l'association Kangaroo, organise divers stages d'anglais en immersion pour les enfants de 0 à 11 ans. Ainsi, chaque matin, un petit groupe d'enfants de 3 à 7 ans participe au stage "What the Ladybird Heard" ("Ce qu'a entendu la coccinelle"). En fin de semaine, ils restitueront à leurs parents ce qu'ils ont appris lors d'un court spectacle au cours duquel ils interpréteront "Old MacDonald Had a Farm" ("Vieux MacDonald avait une ferme"