Now what is a currant bun you may ask? It is bun that contains currants, sultanas or raisins. Chelsea buns (similar to pains aux raisins) and hot cross buns (eaten at Easter) are the most well-known varieties of currant bun eaten in the UK. In case you were wondering, currants are tiny, dark, raisins made from black grapes.

Five Currant Buns in a Baker's Shop is a very popular nursery rhyme in the UK. It is great for helping young children with counting to and backwards from five. Read on to see how I will be using this rhyme with my young (3 to 5 year old) EFL children. My three year old and I had fun using it today!

Activity before singing
Counting to five Introduce or revise counting to five. Start by slowly counting the fingers on one hand. Repeat, encouraging your children to repeat after you. Do this again several time in a sing song voice, high/low voice, a fast/slow voice. Get the children moving and counting; tapping knees, clicking fingers or stamping feet. I like to do some "brain gym" type moves too; Children stand up and as they count they place their hand on their opposite knee and then swap so they are crossing their, oh so important, midline.

Counting back from five If your children are already familiar with counting to five, introduce counting backwards.  Hold up five fingers "How many fingers are there?" Now curl down one finger and ask "five and one less, how many fingers?" Repeat to zero. Ask the children to do the same, they hold up five fingers and one by one curl them down and count them together. When you have counted back to zero repeat some of the above activities. This is really quite tricky and they will need a lot of practice.

Explain what a baker is (put on a baker's hat, the children will find it hilarious) and show a photo of a baker's shop.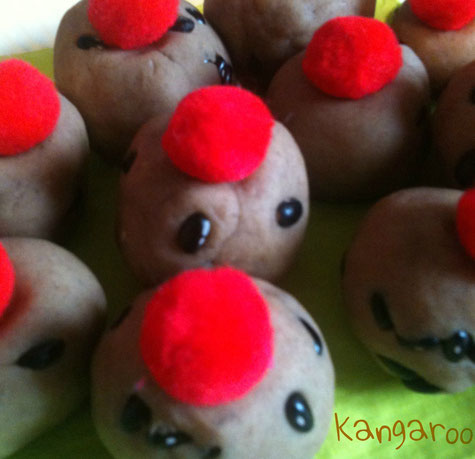 Introducing the vocabulary Present a plate of 'delicious' currant buns. We made ours from a simple play dough recipe and adding two tablespoons of cinnamon for colour and smell. We mixed in some black beans as currants and red pom poms for the cherries. "Currant buns! Yum! yum! I like currant buns. Look they have little black currants in them, and a red cherry on top. I'm hungry" Take out a real penny and pretend to buy a currant bun "A currant bun, please" "Thank-you" Sort the children into boys and girls. Invite a boy and then a girl to buy a bun encouraging them to repeat the dialogue and handing over a penny

While singing
Count out five buns together, sing the song to the children taking away the buns one by one. At the end of each line count how many buns are left and then continue with the song. Repeat this several times, encouraging the children to join in; a boy and then a girl. You could replace boy/girl with a child's name.

Five currant buns
FIVE currant buns in a baker's shop
Round and fat with a cherry on top.
Along came a boy, with a penny one day
Bought a currant bun and took it away.
FOUR currant buns in a baker's shop
Round and fat with a cherry on top.
Along came a girl, with a penny one day
Bought a currant bun and took it away.
THREE currant buns in a baker's shop
Round and fat with a cherry on top
Along came a boy, with a penny one day.
Bought a currant bun and took it away.
Find a lovely version of the rhyme here

After Singing activities to try
Role play the shop scene. Provide a simple baker's shop sign, hat (made from rolled up white paper), pennies and purses and play along with the children

Customer: hello, a currant bun please
Baker: a penny please
customer hands over one penny: Thank-you, goodbye
Baker: Thank-you, goodbye
Make play dough currant buns  Each child wears a baker's hat and is invited to make some buns for the shop. Offer children some non-coloured play dough, cinnamon, black beans and red poms poms. Play along side the children as they make their buns. If you want them to last make them from salt dough instead.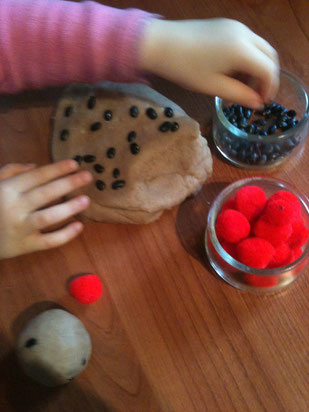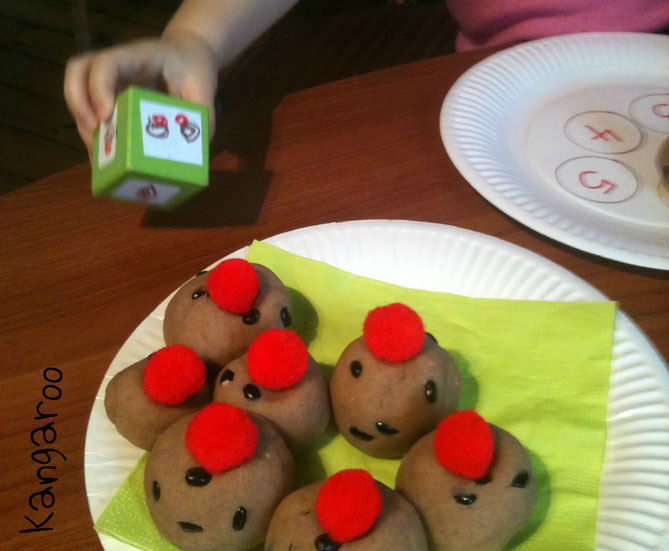 This is a game for up to four players. You will need four paper plates with five circles drawn on each. Write number 1 to 5 in each circle. this is the players board; a dice with either one or two buns drawn on each side (we used a wooden cube with white stickers); 25 currant buns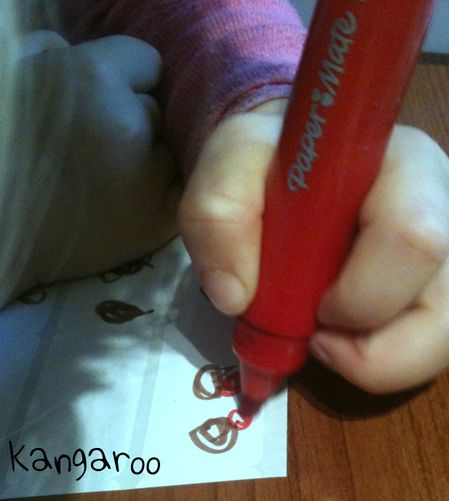 The aim of the game is to be the first to buy and fill the plate board with five buns.

How to play Take turns to roll the dice, count the buns on the dice and "buy" that number of buns. Put them on the correct number circle on their plate board. Have children use the correct vocabulary; my turn, your turn, who's next? How many buns? How many more do you need?  The player needs to roll the exact number to finish.
My daughter really enjoyed making and playing this game, although, as she just beginning to recognise her numerals, I didn't worry if she placed her bun on a 'wrong' circle.  Big sister (she's six) had a go too when she finished school. With older ones roll the dice, count out the correct money and then buy the buns, extending even further using two, five or ten pence pieces and giving change.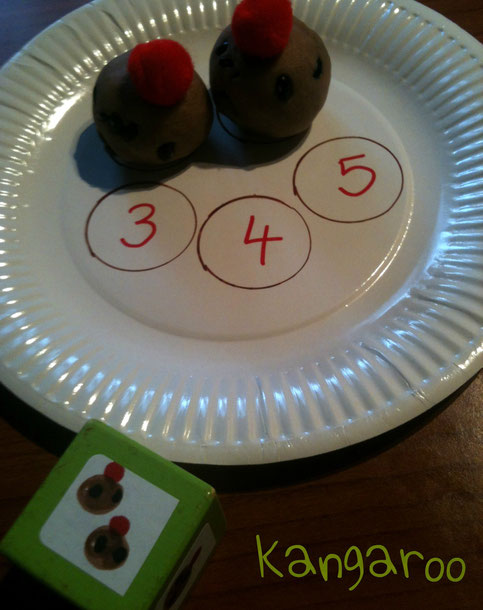 Look and talk about what is on the pennies. Compare with coins from children's own country. Make some simple rubbings by placing a piece of paper over the penny and rubbing over the penny with a pencil or crayon.